The My Finds pocket query is a special Premium Member only (Geocaching.com) feature that creates a pocket query of all of your Geocaching finds.
With the click of one button you will be treated to a single file that contains ALL of the caches you have found and all of your associated logs. The usual 1,000 cache limit does not apply to this special query. After the file is ready to download from the website (or sent to your email inbox) you can then load the data into the database management software or app of your choice (we use GSAK, iGeoPad, Geo Bucket, iGeoPad, iGeoKnife, and Geosphere) to sort, analyze, manipulate, and filter your cache finds data.
Here are the simple steps for you to follow to download your My Finds pocket query: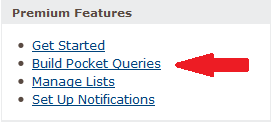 1. Login to Geocaching.com with your Premium Member account
2. Click on BUILD POCKET QUERIES on the right under PREMIUM FEATURES
3. Locate the MY FINDS section in the middle of the page and click on ADD TO QUEUE


4. In a few moments (depending on the number of caches, server traffic, etc.) you will see the file show up on the POCKET QUERIES READY FOR DOWNLOAD tab (and in your inbox)


5. Click on My Finds Pocket Query under the NAME heading to download the file
6. That's it. Your done!
The My Finds pocket query can be run once every 3 days.
Now run some macros on the data, export the HTML to your profile, and sit back and admire your Geocaching accomplishments!