GeoArt is a series of geocaches that, when viewed from a cache listing map, forms some sort of artistic outline.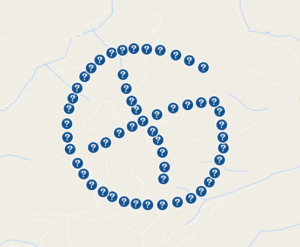 Often cache artists use Puzzle (Mystery) caches to create their artwork, but there are some great pieces of GeoArt that are made entirely of Traditional type caches.
This list should give you an idea of what GeoArt is out there waiting to be found.
If you know of GeoArt that is not listed, please let us know!
U.S. GeoArt
50 State Stars (Still need Alabama, Hawaii, Illinois, Missouri, Montana, New Jersey, North Dakota, Washington, and Wyoming)
Alabama
Alaska
Arizona
Arkansas
California
Colorado
Connecticut
Delaware
Florida
Georgia
Hawaii
Idaho
Illinois
Indiana
Iowa
Kansas
Kentucky
Louisiana
Maine
Maryland
Massachusetts
Michigan
Minnesota
Mississippi
Missouri
Montana
Nebraska
Nevada
New Hampshire
New Jersey
New Mexico
New York
North Carolina
North Dakota
Ohio
Oklahoma
Oregon
Pennsylvania
Rhode Island
South Carolina
South Dakota
Tennessee
Texas
Utah
Vermont
Virginia
Washington
West Virginia
Wisconsin
Wyoming
Worldwide GeoArt