You've found Geocacher's Compass!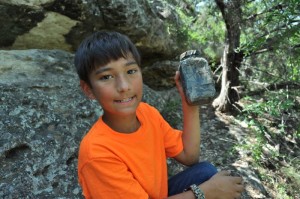 What is Geocaching? Geocaching is a real-life adventure that combines the high-tech Global Positioning System (GPS) with outdoor activities.  People, like you, use their GPS receivers or Smartphones to locate hidden Geocaches (small to large sized containers of all shapes).  After you find the container, you simply sign the log inside to say "I Found It".
You will not only find information here, but step-by-step instructions about how to Geocache and other related subjects.  Geocaching is an ever changing activity and we provide you with up to date content.  If it's important to the Geocaching community you will find it here.
We provide instructions about how to Geocache.
Here are a few of our popular topics:
Geocachers are people from all walks of life and of varying experiences.  There are as many ways to Geocache as there are cachers.  It is a great culture to learn and to share.  We haven't found a cacher yet who wasn't willing to give technical advice, hiking tips, or puzzle solving clues.  Even when a cache proves to be extremely elusive, the Cache Owner (CO) will offer as much (or as little) help as you want.
Geocacher's Compass is continually updated and responds to the needs of the Geocaching community.  We hope that Geocachers around the world will contribute and help us.  Send us your comments, suggestions, and stories.  Just go to the Contact Us page and send us an email.  We want to hear from you!
(By the way, Muggles are just those who are not in on the adventure.)
So, are you ready?  Follow us and we'll point you in the right direction!